Hays Sydney


Leading recruitment agency in Sydney
Sydney is Australia's largest city, with over 5 million people calling it home. With gorgeous beaches, stunning tourist attractions and plenty of large and small businesses creating employment opportunities, it is no wonder that so many people want to live and find a job in Sydney.
If you're looking for a job in Sydney, let the experts at Hays help. Our recruiters help skilled professionals find their next career move across a wide range of industries from
accountancy & finance
to
construction
,
engineering
,
technology
and more.
hire talented staff
, the team at Hays is prepared to help guide your recruitment process and find the best people to join your team.
Whatever your recruitment needs, our Sydney teams are ready to help.
Get started today
.
Find permanent, temporary and contract Sydney jobs with Hays
At Hays, we are passionate about helping people secure their next career move. If you're looking for a job in Sydney, let Hays, the leading recruitment agency in Sydney, find your next job or career move. We are the experts at recruiting qualified, professional and skilled people worldwide and are market leaders in Australia.
For whatever career stage you are in or the type of work you are looking for, the Hays jobs database has a suitable job for you. With a wide range of permanent, temporary or contract jobs regularly updated on our website, we can help you find a job across major industries or locations in
Sydney CBD
and surrounding areas like
North Sydney
,
Parramatta
,
Liverpool
and more.
Start
browsing our advertised jobs
and apply directly with your resume or
send us your CV
so we can tell you when a matching job becomes available.
Explore jobs in Sydney and uncover our industry knowledge in your area of expertise:
3 stack industry promo block | TS
Sydney | Main Region 2 | UB
Find the right job with our Sydney recruitment agency
At Hays, we'll do more than just help you find a new job – our recruitment consultants will help you land a role that matches your specific talents, salary requirements, and career aspirations. Whether you're new to your industry or have decades of experience, we know how to pair you with a suitable role in Sydney.
Our job database is always being updated, so it won't take long for you to find something that suits your goals.
Set up job alerts
so you can get notified when a position matching your preferences gets uploaded.
If you're ready to get started with one of our recruitment consultants, contact your local Hays Sydney recruitment agency today.
Recruiting? Work with our expert employment agency in Sydney
If you're looking to hire qualified, skilled and high-quality talent in Sydney, our recruiting experts are the right people to help you. In addition to recruitment services, we also offer a comprehensive range of employment services, including
skills assessment & development
,
RPO
&
MSP
solutions and training.
We can work with you at every stage of the recruitment process, from outlining the unique requirements of the role, deploying a sourcing strategy, screening and interviews, all the way through to appointment and aftercare.
Register your vacancy
today or contact our job agency in Sydney to have a chat about your recruitment needs.
Sydney CBD
Sydney suburbs
HaysSearchEntityForm Portlet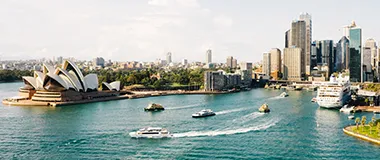 Find my nearest office
Hays has offices across all states and territories. Contact us to discuss your recruitment needs.