Hays Canberra


Top recruitment agency in Canberra
Canberra, Australia's national capital, is a city with lots of job opportunities, a population of around half a million people and a sizeable pool of skilled professionals. Canberra is also Australia's most educated city and one of the most affordable states to move to in Australia.
For many, finding a government or private sector job in Canberra is the gateway to a rewarding career path, competitive salary and excellent work-life balance.
Reach out to our Canberra recruitment agency today.
Find the best jobs in Canberra with Hays
Find all the best Canberra jobs with Hays by searching our online jobs. No matter if you're looking for a permanent position or something more flexible, you'll be able to find a suitable role across all major industries in Canberra and surrounding areas.
Explore jobs in Auckland and uncover our industry knowledge in your area of expertise:
3 stack industry promo block | TS
Canberra | Main Region 2 | UB
Let Hays help you find Canberra jobs suited to your unique skills, experience, and career aspirations
Hays is more than just a jobs database. Our employment agency in Canberra is staffed by passionate recruitment consultants who are eager to meet you and help you find a role that perfectly aligns with your skillset, experience, salary expectations and more.
Whatever type of role you're looking for, Hays can help you find it fast. We've always got new jobs coming in, so even if you can't find the right career move today, something will surely come up soon. Make sure you
set up job alerts
so that you'll be notified when a position matching your search filters gets advertised with Hays.
Contact our job agency in Canberra to get started.
Get help with hiring from our employment agency in Canberra
If you're looking for staffing or recruitment solutions, our recruiting experts are the right people to help you attract and secure professionals with the right skill sets and aptitude for your role. With over 40 years' experience in the recruitment industry, you can be confident of the recruiting power Hays has to fill your roles.
When you partner with Hays, our team will work with you through each stage of the recruitment process. This include outlining the needs of the role, deploying a strategy to source top candidates, conducting screening and interviews, all the way through to appointment and aftercare.
Get started by
registering a job vacancy
with our website or get in touch with our Canberra office below to chat about your hiring needs.
Hays Recruitment Agency - Canberra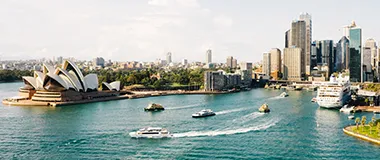 Find my nearest office
Hays has offices across all states and territories. Contact us to discuss your recruitment needs.