Leadership skills | Main Region | UB
Leadership skills: What makes a good leader?


It's well-known that workplaces need great leaders to succeed. But many leaders and managers are falling short on basic management essentials such as performance monitoring, engagement, team building, time management and incentivisation.

Often, high performers are promoted into leadership roles without receiving adequate training and support to perform their new duties. If this describes you, or you aspire to a leadership role, we provide the following advice on how you can develop a wide set of leadership skills to make a positive difference in your organisation.
What makes a good leader?
In a speech at Harvard University, Facebook COO Sheryl Sandberg said, "Leadership is about making others better as a result of your presence and making sure that impact lasts in your absence."

Meanwhile, retired astronaut Chris Hadfield (most famous for his rendition of David Bowie's Space Odyssey recorded on the International Space Station) believes that leadership is "not about glorious crowning acts.

"It's about keeping your team focused on a goal and motivated to do their best to achieve it, especially when the stakes are high and the consequences really matter," he wrote in his book An Astronaut's Guide to Life on Earth.

While there are many other opinions, the common thread is that a good leader allows other people to do their job better.
What are leadership skills?
Leadership skills are those that employers and managers call on to enable their organisations to achieve their goals and, as noted, help others perform their job better. This common leadership skills definition applies whether you're a team manager or spearheading a project. To reach a shared goal, you need to employ important leadership skills such as decision-making, communication, integrity, problem-solving, emotional intelligence, mentoring and trust building.
Different leaders might rely on certain skills more heavily than others, depending on their leadership style. Regardless, all leaders require these leadership skills to succeed.
Just remember that your skills must continuously evolve. A DDI
Global Leadership Forecast 2021
survey found that the most successful leaders are those who have been able to rapidly learn new skills and change. Developing leadership skills is therefore a continuous process of professional development.
Leadership skills examples
By developing skills from the following leadership skills list, you can positively influence your organisation's success.
Decision-making
Business leaders need to be good decision-makers to make the right choices in complicated situations. To lead well, you might need to decide on the best job candidate to hire. It might be your responsibility to determine how to respond to negative customer feedback. Or you might need to make a call on which service provider to engage to support the needs of your employer.

Often, decision-makers also need to balance the interests of the organisation with competing views of different employees.
Communication
Great leaders are skilled
communicators
. They call on their good communication skills to share information, inspire others and guide direct reports. Good communicators in leadership roles speak specifically, directly and succinctly. They also listen actively to build strong relationships and effectively communicate. They understand that good communication abilities and building a positive environment are as much about listening as talking.
Integrity
Integrity
is essential for great leadership. Integrity is about demonstrating strong principles and values through your conduct in the workplace. It's the foundation of your reputation at work and ensures you do the right thing. Strong leaders show integrity by being trustworthy, keeping promises and communicating honestly.
Problem-solving
Leaders are accountable for solving problems. As a leader, you might be expected to resolve conflict between employees. You might face the problem of making operational processes more efficient. Or you might need to introduce new measures to prevent safety risks.
Good
problem-solvers
are equipped to identify the exact nature of problems at work. They carefully consider potential solutions before deciding on the best one. Once they implement a solution, they monitor its effectiveness and refine as required.
Emotional intelligence
As leaders continually adapt to the ever-changing world of work, emotional intelligence has become an increasingly important trait to possess to effectively build trust and confidence with their teams. Emotionally intelligent leaders are aware of the impact of their words and actions. They understand and manage their own emotions as well as those of their team. Such self awareness is essential in a leadership position.
Mentoring
The ability to mentor also makes the list of important leadership qualities. Leaders who are skilled in mentoring can have a big impact on employee performance at work. Skilled mentors share good advice and clear feedback. They are attentive listeners. They are generous with their time and sincerely committed to helping employees fulfil their potential.
Trust building
Gaining workers' trust is more important than ever.
The Edelman Trust Barometer
shows that workers who trust their employers are far more engaged and loyal than their more sceptical peers. When your team trusts you, it's usually because you are dependable, accessible, credible and supportive. You do what you say you will and are always honest.
Why are leadership skills important?
Strong leadership skills are important for many reasons.
Staff retention
Firstly, good leaders retain top talent. Our annual
Hays Salary Guide
regularly finds that around one-third, or more, of professionals who say they're looking for a new job are displeased with the management style or workplace culture in their organisation. On average, only around one half are satisfied with their current employer and direct manager. Clearly, people management skills need more focus.
Organisational performance
In addition, good leaders improve an organisation's results.
According to Gallup
, teams with great managers earn 27 per cent more revenue per employee.
Positive team culture
Good leaders also create a positive team and organisational culture. Team leaders set the tone for a productive and healthy team where the purpose and goals are clear, everyone's voice is heard, conflicts are quickly resolved and relationships are strengthened.

If you harbour aspirations to move into a leadership role, the best way to make progress is to start developing your leadership skills now.
How to improve leadership skills
We are well acquainted with the term 'born leader'. However, leadership skills are teachable, too. If you want to become a leader who continually learns, there are many ways to approach developing the skills you need.
Consider completing leadership training programs, online micro credentials or leadership workshops. For instance,
Hays Learning
is our free online learning platform covering technical, digital and soft skills. With Hays Learning, you can access a range of free online learning courses, including in leadership.
You can further develop your leadership skills by embracing stretch opportunities, asking for feedback from colleagues, joining a leadership network or taking on opportunities to mentor.
By actively developing yourself as a leader, you can set yourself apart from other employees. You'll gain good leadership traits and key skills that will serve you well throughout your career, whether you are currently in a management position or aspire to one.
Become an effective leader
Whether you feel confident to show leadership today, or you aspire to be a great leader tomorrow, employers prize quality leaders. By developing your leadership potential, you'll make a positive impact on your workplace and career. You'll contribute to business success and you'll gain important skills for your future.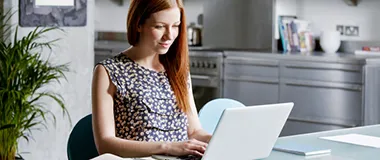 Hays Learning
With free access to hundreds of courses, develop the skills you need to future proof your career.
Sign up for free