How to respond to recruiters on LinkedIn
How to respond to recruiters on LinkedIn


What do you do now that a recruiter has reached out to you?
You've received a message from a recruiter that you don't know, saying that they want to have a discussion with you about a job opportunity.
This is no longer an uncommon situation to find yourself in. Digital technology has seen the recruitment industry evolve at a rapid rate, with recruiters now using new technology and data science techniques to identify or find the best candidates for any given role.
There are a number of ways recruiters do this, but there are three main reasons that a person's profile attracts the attention of recruiters. Firstly, your LinkedIn profile is set to
"open to hearing about opportunities"
. Second, the skills and experience listed on your profile categorise you as a suitable match to the available vacancy. Third, you have been active online recently.

In the message you received, the recruiter will most likely send a job description and ask if you are interested in discussing the job opening further, either over the phone or in person. They want to provide you with more information about this opportunity while also learning more about you, where you are at in your career, how open you are to new opportunities and whether you would be a good match for the role they have available.

The question is, what do you do now that a recruiter has reached out to you?
Advice on how to respond to recruiters on LinkedIn
Learn about dealing with inbound correspondence from social media in this video from Hays. Find out how to politely respond to recruiters on LinkedIn today.
Step 1: Responding to the recruiter
The first step is to respond to the recruiter.
It's always worth opening these messages as it could turn out to be your dream job on offer and can provide an express pathway to an initial interview. How you respond will depend on your current circumstances.
There's no harm in learning more about a
job opportunity
, so arrange to have a confidential discussion with the recruiter. However, if you are happy in your current role and not interested in hearing about new opportunities it is still good practice to respond to the recruiter.
Here's how to reply in both of these scenarios: 
How to respond if you aren't interested
Don't ignore the message, instead, thank the recruiter for getting in contact and suggest when they could check back in to see if your circumstances have changed.
If you are open to new opportunities but this role isn't right for you, let the recruiter know what you are looking for so they can ensure that you are only contacted about relevant roles in the future.
You may also like to send the recruiter your current CV. While you aren't looking for opportunities now, you may want their help in the future, and you don't want to cut ties.
How to respond if you are interested
If you're interested in the job opportunity, reply to the recruiter's message as soon as you can. You could either ask the recruiter to email you a copy of the job description or suggest jumping on a phone call so that you can have a quick chat about the role.
Remember, this is simply an exploratory conversation. It doesn't tie you into applying or taking your application forward.

If you decide to speak on the phone, remember the next key points.
Step 2: Do you want to be put forward?
As the conversation draws to a close, the recruiter will ask if you are interested in being put forward for the job.
If you need more information or time to think
If you need more time to think about the opportunity, say so. If you haven't already received any form of job description, ask if this can be sent over to you. Then draw up a list of pros and cons about the opportunity, factoring in what this role can provide you with versus your current job. Consider how the role fits with your career ambitions. You could also use this time to research the organisation, by checking out their website, as well as any social profiles. Try to get back to the recruiter within a day or ask for more time if you need it.
If you want to be put forward for the role
If you are interested in the role, then let the recruiter know. From here, they will ask you to send across your CV so that they can pass it on to their client for consideration, or they may just start scheduling an interview immediately.
The recruiter may also suggest
meeting up
so that they can get to know you and your ambitions more and discuss any other job opportunities.
If this isn't the right role for you
If you feel that this isn't the right opportunity for you, inform the recruiter as soon as you can. Thank them for reaching out and explain why this opportunity isn't right for you.

Don't leave things there though. You've made a new contact now that could be beneficial for your career down the line. Connect with them on LinkedIn and send them an up-to-date version of your CV so that they can consider you for future opportunities that match what you are looking for. After all, you never know what jobs they might be working on when you are ready to explore your options in the market.

Having a recruiter reach out to you on LinkedIn is a positive sign. It means you have a strong profile and relevant skills in demand. Regardless of whether you are interested in the opportunity or not, by keeping the lines of communication open you will build your professional network, learn about current opportunities and gain a lifelong career partner.

Some extra tips on responding to recruiters:
Find out about the consultant and the areas they recruit in by reviewing their LinkedIn profile and recommendations. This can give you a better idea of their area of expertise, and which other roles they may be able to place you in.

Make sure you find a space where you can talk confidentially and take notes about the opportunity.

Have a copy of your CV and LinkedIn profile in front of you, and be ready to talk through it, highlighting your key skills and experience.

Prepare some questions about the role and organisation, depending on what your career priorities are. For instance, does the organisation offer training and progression opportunities? How does the organisation describe its culture?
job hunting rh promo block menu
Refer a Friend | Promo Block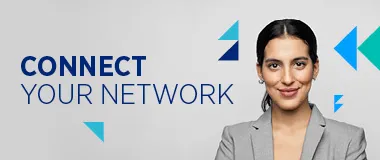 Refer a friend
Join the Hays referral program and we will reward you with a $200 e-gift card for every eligible friend you refer.
How to respond to recruiters on LI content block | Main Region | UB
Example of how job seekers could respond to a recruiter
If you are interested in the job
When you receive a message from a recruiter and think you may be interested in the role, start your reply by thanking the recruiter and expressing your interest.
"Thank you for reaching out, this sounds like a great new job opportunity, and I'm interested in learning more about this [job title] position. Could you provide more information about the role and the next steps in the process? I'm available for a call or video interview and am happy to share my resume for a more comprehensive view of my background. Looking forward to further discussions."
If the recruiter delivers more information that looks promising, follow up with your availability and contact information. This is also the time to attach your resume if requested.
"That sounds great, I'm available for a conversation or interview at your convenience. My schedule is flexible, and I can make time for a call or video interview within the next week. Please let me know what works best for you and the clients hiring managers. I can be contacted on mobile at [phone number] or by email at [email address]."
If you are not interested in the job
Responding to a recruiter on LinkedIn when you're not interested in the role requires tact and professionalism. Even if you aren't actively searching for a new job right now if can be beneficial to maintain a positive relationship with recruiters. The best way to structure your reply is to acknowledge the recruiter, express gratitude for being considered, be honest about your lack of interest, and keep the door open for future opportunities.
"Thank you for reaching out and considering me for the [insert job title] opportunity at [company name]. I appreciate your interest and the time you've taken to connect. After careful consideration, I don't believe this particular role aligns with my current career goals. I'm currently focused on [mention your current goals or responsibilities], which makes it challenging for me to pursue this role.
However, I'm open to staying in touch and exploring opportunities that may be a better fit in the future. Please feel free to connect with me on LinkedIn, and I hope our paths may cross again under different circumstances. Thank you again for your consideration, and I wish you the best in your search."
How to professionally respond to a LinkedIn recruiter?
Make sure you're opening every message you receive and seeing if the opportunity is right for you. If it's not, decline in a professional manner but ask them to keep you in mind for other opportunities. If you're keen, say you're interested and ask if an initial interview can be arranged.