Executive PA Awards main region
Executive PA Awards


We're proud to once again be partnering with Executive PA Awards. For the eighth year running, Hays Office Support will sponsor the 'Up and Coming EA of the Year Award at the 2020 Executive PA Awards.
Nominations are now open so if you're an ambitious and proactive EA, or know someone who is and would like to nominate them, register and make your nomination now. Click here to nominate.
Nat Kennefick, winner of the 'Up & Coming EA of the Year' award for 2018 spoke with Hays to explain just how winning this fantastic award has benefited her and her career to date:
---
Q&A with Nat Kennefick 'Up & Coming PA of the Year' 2018
Can you please describe your career up to the point you won the 'Up & Coming PA of the Year' award in 2018?
I have had a fairly typical career progression through administration. I started as a receptionist and gained a cert 2 in Business Administration, then moved into admin and team assistant roles. From there I held Office and Admin Manager roles while simultaneously completing my Diploma in Business Administration.
I was looking to get into an EA role but was finding it very difficult, so I undertook a Diploma in HR. I was considering a career move into recruitment when I secured an EA role with my current employer. I have since moved departments within the company to further my career and open up new opportunities.
Can you please describe your career since winning the 'Up & Coming PA of the Year' award
Since winning the award, I have been recognised more within my business unit and company. EA's from other businesses have contacted me to ask about my career and about winning the award.
I have been able to use the win as a way to raise the profile of EA's and our roles within organisations.
I have also been fortunate enough to be invited to speak to other EA's at conferences and be interviewed for publications.
Please describe your current role and responsibilities.
My current role has me reporting to two managers over two different departments. I look after the Head of Mass Markets and the Head of Regional Sales and Execution at Optus. I provide support to my two executives as well as to their broader teams, which encompasses approximately 120 staff members, spread throughout Australia.
I do everything from travel and expenses, to diary and email management as well as event planning and management. Communications and pack preparation and running the monthly team meetings also fall under my role.
What do you enjoy about your job?
I like the people. I have great bosses, and great team members. We have a very supportive network of EA's in our department and throughout the business.
I like having managers in different departments as it allows me to see our strategies from different perspectives and I get to know more about the company.
I also love the event side of my role. I love organising events of all sizes, from small team building events to large gala dinners and conferences. Seeing all my hard work result in a seamless and enjoyable event for my team is professionally rewarding.
In your opinion, what is the most exciting thing about being a PA?
Being in telco, a constantly changing industry, means that no two days are the same and you are always learning. I think EA's have a great opportunity that others don't always get. We can see the finer details of the way our businesses work, and we play a big part in that, even though our input is not always seen or rewarded.
More than ever, today's PAs balance an ever-increasing list of responsibilities. What personal qualities help you cope and succeed?
I would say being hard working, organised, collaborative, efficient, able to prevent problems before they arise, and deadline focused are all important skills. You could add time management and interpersonal skills as well. To this list I'd add:

1. Adaptability. Things are always changing and an EA needs to be able to adapt to those changes and carry out their tasks quickly. It's almost like you need to see the change, react to the change and make necessary changes before your manager or teams even know there has been a change.
2. EQ. A good EA needs to understand emotions and be able to show emotions that suit the situations.
3. Confidence in yourself and your abilities. This is important so we can get our ideas and opinions across in the right way.
What else do you think it takes to be a successful PA?
Personality! No one wants to deal with a grumpy or "flat" EA. You need to let your personality shine and create connections with people around you.
What are your future career aspirations?
I would like to continue moving my way up as an EA and then I will look at my options. Perhaps Event Management or HR.
How will your award win help you achieve these aspirations?
The award gives me a higher profile. The out-of-office opportunities I've received, such as public speaking, have allowed me to develop and learn new skills that are helpful in my career development.
Why would you suggest to other PAs that they enter this award?
EA's are so often overlooked and under-appreciated. This is a way to show what you are capable of and to be recognised and celebrated by other EA's and industry leaders. Even if you don't win, and are lucky enough to be a finalist, it can elevate your career (and your confidence) and help you achieve all you want from your career.
Finally, what advice would you share with others who aspire to be a top PA?
Be you and never stop learning. The day you think you have no more to learn is the day you should stop being an EA. We have the unique opportunity to learn so many facets of our business, but remember, you should stay true to yourself and always be you.
Office Support insights RH menu
Jobs landing page promo boxes lower region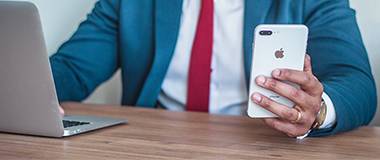 Create a job alert
Hays job alerts make your search for the ideal job as easy as possible.
Send us your CV
Send us your CV and start your search for a new job with job alerts, fast apply and more.
Salary checker
Find out if you are earning the salary you deserve with the Hays Salary Checker.