The importance of networking | Main Region
The importance of networking


COVID-19 drastically transformed professional networking. If event organisers didn't outright cancel networking events, many at least pivoted to digital equivalents. As a result, face-to-face networking was replaced with
digital networking
.

However, as we resume life in the workplace, and as public gatherings in general restart, face-to-face events are back on. That means face-to-face networking is back on, too.
What is networking?
Networking, of all kinds, involves the activities employees engage in to establish business-related relationships with like-minded professionals. As we connect through more comprehensive networking opportunities, it's timely to consider the vital role networking plays in the success professionals experience in their careers.
According to one
global study from LinkedIn
, 80 per cent of professionals consider networking to be important to career success. The survey also found that 70 per cent of respondents had been hired by an organisation where they had an existing connection.
Clearly, a little bit of networking can go a long way. In this article, we examine the value of face-to-face networking. You can read more on
digital networking here
.
Networking examples
Your professional network extends to colleagues, clients, industry professionals, and more. With so many people to potentially network with, how do you know where to start?
Influential networking experts Brian Uzzi and Shannon Dunlap
categorise the networks people join
into three groups: personal, operational and strategic. The best networks, they say, comprise all three categories.
Personal networks
Connections in your personal network often exist outside the organisation you work for. You are also likely to share interests with them. For example, they might be part of the same alumni group. You might know them from a mutual industry association. Your relationship could have its origins in the local sporting community. Or your connections might stem from your personal life, including your family or friendship group.

Scenario example: You work in marketing, and your connection works in real estate. You play in the same soccer team. The real estate agent is looking to refresh his organisation's marketing collateral. You mention your marketing agency specialises in brand strategy workshops. Your connection books a consultation with your agency. It is the beginning of an ongoing partnership between both organisations.
Operational networks
Your operational network largely comprises contacts within your organisation. These contacts also play roles advancing your organisation's objectives. Your operational network includes people you report to. It includes people who report to you. It includes other colleagues, mentors and leaders. It can also include suppliers, distributors and clients. Think of your operational network as all stakeholders invested in your organsation's operations.

Scenario example: You work in the product team of a large confectionary organisation. You need complicated sales information from your organisation's sales department. You also need obscure stock information from your logistics department. One of the sales managers you are close to is the perfect person to help. You are friendly, and you regularly support each other. The manager quickly shares her knowledge and resources with you. She also connects you with the right contact in logistics. She sees that logistics promptly share resources with you, too. With her support, you save considerable time and money.
Strategic networks
The connections in your strategic network can be inside or outside your industry. They are important influences on the strategic direction of your organisation. You might have a role to play in connecting each other with new markets and industries. You might share ideas that influence the strategic direction of your organisations. You might also build a partnership that stimulates business development.

Scenario example: A financial institution visits a school to teach students about financial literacy. The school community derives value from contributing to the wider education of their pupils. The financial institution increases future financial decision makers' awareness of what they do.
Develop all three networks
Think about how you can build connections across all three of these network types. You'll dynamise and expand your network as a result.
How to network: best-practice tips for successful networking
Not everyone is confident networking. In fact, it's not uncommon for people to struggle with self confidence and therefore conclude they hate networking.

Others may associate networking with bad canapes and an endless collection of business cards.

Networking is usually a completely different experience that ultimately aids your career success. From great conversation to new industry insights and even job opportunities, expanding your network with new contacts can have many advantages.

Below we outline how to network and provide our top networking tips, so you can purpose your networking efforts into new business and career opportunities.
Script it
It's very common for people to want to network at face-to-face events but to feel nervous about meeting strangers. If this describes you, overcome this barrier by jotting down questions and talking points in advance. Memorise them and, if necessary, keep a copy on your phone notes for reference. There's every chance you won't need them, since conversation tends to flow once it starts, but it will be reassuring to know you are well prepared for any awkward pauses.
Be equipped to network
Do your homework on networking events before you attend and review the agenda. The more prepared you are, the more confident you'll be. You will also speak more impactfully on the salient topics of the event.

If possible, research organisations and other professionals attending the event. Identify those professionals and organisations you most want to meet and prepare relevant talking points. This will help avoid stumbling conversations and allow you to experience meaningful interactions.
Be proactive
Sometimes, networking opportunities fall in your lap. For example, you receive an event invitation or a colleague approaches you about collaborating. However, you can create your own opportunities, too.

Investigate industry events, business events and conferences in your area of professional development. Explore Chambers of Commerce and Industry for networking opportunities. Participate in workshops. These environments are ideal opportunities to get to know people with professional shared interests.
Add value to your networking relationships
Always keep in mind that the best relationships in your network are reciprocal. Pay attention to what you can offer others for mutual benefit. Your value might be advice, connections, or mentorship, for example. Be proactive and generous about sharing valuable information with everyone you network with to develop a strong network and long term relationships.
Build on your relationships
Building relationships and networks requires attention and maintenance to stay healthy. If you hit it off with somebody at a particular event, notify them when another key event is upcoming. Or, if you have colleagues that you occasionally collaborate with at work, invite them out for lunch.

Be prepared to invest time and energy into these relationships to strengthen them longer-term.
The benefits of networking for your overall career
One of the best-known benefits of professional networking is that it might directly lead to job opportunities. But in truth the advantages of good networking are much more comprehensive.

Networking is highly beneficial to your professional development. Inside your organisation, your operational network can be full of mentors, thought leaders and colleagues from across the business world with specialist skills and knowledge they can share with you.

The more you build your network, the more exposure you have to new ideas, professional advice, support, intelligence and strategic insights - these network resources have the potential to impact your professional success.

Remember, just like your career, your network and professional relationships develops over time. The more time and energy you invest into your networking, the more it does for you in return.
HaysSearchEntityForm Portlet
Career development rh menu promo block
Refer a Friend | Promo Block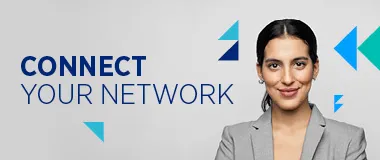 Refer a friend
Join the Hays referral program and we will reward you with a $200 e-gift card for every eligible friend you refer.