How to write a resignation letter: tips and template - main region
How to write a resignation letter: tips and template


Quitting your job can be daunting. While you may be looking forward to your new role, you must break the news of your impending departure to your manager and prepare a formal resignation letter.
This letter sets the tone for your notice period and must be professional, positive and gracious. If you plan to ask your current manager to act as a reference, this letter can help end your employment positively. Following the right format is therefore essential for this formal document.
What is a resignation letter?
Once you have accepted your
new job
offer and signed the contract, your most urgent task is to inform your manager of your intention to leave. After verbally breaking the news to your manager, you must communicate your resignation in writing, in either the body of an email message or as an attached letter.
This written communication acts as a formal document stating the date from which you wish your notice period to begin and when your last day of employment will be.
If you're used to communicating with your manager via emails, instant messages, or informal calls, then writing a formal notification of your resignation might feel unnatural. However, since your resignation letter will be kept on file by your HR department, it must be structured professionally.
I would like to thank you for the opportunities that I have been given in this role; I have thoroughly enjoyed working as part of your team. I've had many great experiences while working at [organisation] that I am particularly grateful for, such as the opportunity to develop my X skills during Y project, and being given responsibility for Z.

I wish you and the team all the best for the future – I hope we can stay in touch.

Kind regards,

[Your name]
Below you can
download
our simple resignation letter template and additional advice.
Who to address resignation letter to
When writing your formal resignation letter, address it to the right person. This is either your current line manager or the HR department. Writing "To whom it may concern" is unprofessional.
Why it's important to write a resignation letter
A resignation letter provides formal evidence of your departure from your existing job. From your point of view, this letter enables you to detail the effective date of your resignation, the number of weeks' notice you are required to give and the intended date of your last day at work. This ensures you have made your exit clear to your employer. Make sure you keep a copy of your letter of resignation for your own records.
It's also important to explain that you're thankful for the position you've held with your employer and the opportunities you've been given. Show your gratitude to your manager and the organisation. You may like to share that you've learned a lot and thank them for their personal support.
What not to include in your resignation letter
If you are leaving your role for negative reasons, such as a lack of progression or a poor relationship with your manager, your resignation letter is not the place air your grievances.
Therefore, do not be cold in your tone or cite the reasons for your departure. If you do have concerns about the organisation, your job or the workplace culture, your exit interview is the place to voice them. Even then, however, your feedback should be directed in a way that can be constructive for your employer.
Don't be vague about your final day of work. Clearly state your last day so your employer can plan effectively for the handover period and beyond. This also avoids future disputes over your finishing date.
Final resignation letter tips
Now that your resignation letter is ready, you need to plan when and where you'll verbally resign. Book a face-to-face meeting with your manager, either in person or remotely. Once you verbally communicate your intention to resign, you can email your official resignation letter.
How to write a resignation letter
When writing your resignation letter, the following key information should be communicated.
1. Record today's date and your contact details:
This is an official document that will remain in the organisation's records. Like any formal letter, you need to start with the date and your contact details – the most suitable being your phone number and personal email address. Write a clear subject line, such as "Resignation letter: Your name."
2. Address your letter to the right person:
The addressee would usually be your current line manager or your human resources department.
3. State your intention:
In the opening statement of your letter, inform the reader of your resignation clearly and concisely.
4. Outline the key dates:
State your notice period, which should be in line with the terms of your contract. If necessary, review your contract to confirm how much notice is required. For instance, some organisations require two weeks' notice, others require four or more. Note your last working day.
5. Express your willingness to assist in the handover:
Mention that you're happy to help your employer in any way during this handover period, such as by coaching a new employee or upskilling a colleague to become familiar with your role and responsibilities.
6. Acknowledge the positive experiences you've had:
Thank your employer for the opportunity and time they've given you and note any learning experiences, projects or moments that you're particularly grateful for.
If these experiences helped you secure your new job, this is your opportunity to communicate how beneficial your manager's trust and investment in you have been to your career. A touch of sentiment, concisely phrased, can go a long way and costs nothing.
7. Sign off appropriately:
Conclude with your name and signature.
Resignation letter example
Here is a sample resignation letter template you can use:
Dear [Manager's first name],
It's with regret that I inform you of my resignation from my role as [job title] at [organisation name]. I am hereby giving you [insert your notice period – e.g. one month] notice of my departure, with my final working day being [date].
During this period, I am more than happy to help in any way possible with the handover process.
Have your letter to hand: If you'll be meeting your manager face-to-face, prepare your letter in advance so you can email it immediately following your conversation.
Arrange a face-to-face meeting with your manager: Emailing your resignation letter to your boss without a prior meeting isn't just awkward – it can come across as dismissive. So, arrange an in-person or video meeting to give notice. Plan what you're going to say, be professional, clarify any uncertainties such as leftover pay and holiday, and thank them personally for the opportunity to work for them. Remember, they may be a future reference, so remain professional.
Rehearse: If you are nervous about delivering your verbal notice, prepare for your meeting by reviewing your reasons for leaving and, if necessary, rehearse them out loud.
Decide if you want to tell your manager where you are going: If you don't want to reveal your next employer, you're perfectly within your rights to keep this information to yourself. However, if you feel comfortable telling your manager the name of the organisation you are moving to and new position title, go ahead. Decide, too, if you want to share the start date for your new job.
Be prepared for a counter offer: Communicating your decision to leave may lead to a counter offer. If you receive such an offer, carefully consider your options. Don't blindly accept. For instance, remind yourself why you wished to leave in the first place and what attracted you to the new role. Will accepting the counter offer change the reasons that drove you to look for a new job in the first place?
Follow up: The period between handing in your resignation letter and exiting your role should be all about ensuring a seamless transition and concluding your time with the organisation on a good note. So, a few days after you send your resignation letter, follow up with a short email noting that you will tie up any loose ends and ensure your colleagues – and whoever may replace you in your own role – are well-equipped to manage the handover and the weeks and months immediately after you leave.
Keep your news confidential: Finally, do not immediately start telling other team members about your departure. Your manager will appreciate being the one to decide who else to tell, and how and when to break the news to your team.
Leave on a positive note
Resignation letters shouldn't fill you with dread. Once you've made your decision to resign and handed in your formal notice, it's not uncommon to experience a mixture of emotions. You may worry about how your colleagues will treat you during your notice period, for instance, or feel sad about those you will leave behind.
The reality is that most people at some point in their lives – your manager included – have been in your situation. Even though you may have been a valued member of the team, the organisation will not collapse without you. Trust your decision and look forward to the new exciting opportunity ahead of you.
Congratulations and good luck in your new job.
Career development rh menu promo block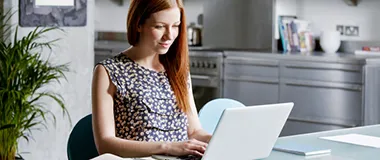 Hays Learning
With free access to hundreds of courses, develop the skills you need to future proof your career.
Sign up for free