10 qualities of a good leader
What Makes A Good Leader? 10 Qualities


Many people aspire to be a good leader. While it's true that some leaders seem like they were born with natural leadership qualities, these skills are, in fact, learnable.
So, if you've decided it's time to take your career to the next level, and that involves moving into your first leadership role, you'll need to develop your leadership skills. Such skills are highly valued by employers for the positive influence they have on both business performance and in ensuring an organisation and its people succeed and thrive.
Let's take a closer look at some of the key leadership qualities you can develop to ensure you thrive as a good leader. Then, you can allocate time to complete leadership-focused professional development. Remember to start with small attainable goals and develop from there. Over time, you'll gain effective leadership skills, which you can use to advance your career.
Essential leadership qualities
There are certain skills that great leaders consistently use. To help you achieve greater success, here are ten essential leadership qualities:
1. Confident decision making
Decision-making is about determining the best course of action to solve a problem. At work, employees are constantly making decisions of various sizes. In some circumstances, the best decision is obvious. In other scenarios, deciding on the best course of action is complicated. Sometimes, the stakes are high and affect many people. Good leaders can come up with new ideas and make decisions in challenging circumstances.
To develop good leadership qualities, start by considering the leadership style you wish to adopt and the types of leaders you wish to emulate. Find out what makes them effective leaders in their team. Build your capabilities accordingly.
Don't forget to also build your high-value hard skills so you can share the knowledge your organisation and its people need to succeed.
2. Conflict resolution
Conflict in the workplace is nothing new and happens more often than we'd like. A good leader therefore needs to be adept at resolving conflict.
To develop this leadership quality, begin by listening actively to all viewpoints. Then, consider all points the people involved agree on, the strengths and weaknesses of all points they disagree on and the common goals. With encouragement, effective leaders then help all parties think proactively about the most positive role they can play in conflict resolution.
Skills to develop to improve your conflict resolution capabilities include communication (see below), emotional intelligence, empathy and negotiation.
3. Delegation
For good leaders and managers, delegation involves sharing or assigning responsibilities to team members. Done poorly, delegation can be detrimental to business performance. Done skilfully, it can be a big help to business operations. It can also benefit your performance and the performance of the employee you are delegating to.
To show strong leadership qualities when you delegate, you need to make sound judgements about the best person for the task. Carefully consider the implications the additional work would have for the team members you are delegating to. Delegate for the right reasons, and communicate clearly with your employee or colleague, so they understand the rationale behind the task allocation.
When delegating, leaders must always give your employee or team members the instructions, resources and training they need to perform the task effectively.
4. Mentoring
Great leaders often act as mentors within their team, wider organisation or industry. Working with their mentee, they inspire them, help set clear goals, give guidance based on their own personal career progression and experience, and support the development of new technical and soft skills. According to statistics cited on National Mentoring Day's website, 71% of Fortune 500 companies have mentoring programs.
While not perhaps one of the traditional leadership qualities, great leaders do mentor others, using the opportunity to not only inspire and upskill future leaders, but to build their own leadership traits. To become a mentor within your company or to external industry professionals, you will need a variety of skills and experience, including active listening, empathy, commercial acumen and specialist experience. You'll then use these traits to inspire confidence and share valuable insights and advice that mentees can purpose into their own career and business success.
If you work for an organisation that runs a well-regarded or leading mentoring program, take advantage of the opportunity to develop the qualities of a good mentor. If not, many professional bodies run mentoring programs, or perhaps someone in your LinkedIn network is looking for a mentor. Keep your eyes open to an opportunity to make a positive contribution to someone's career, while simultaneously developing your own leadership qualities in the process.
5. Communication
Another important leadership quality is the ability to communicate effectively. Like decision-making, communication is something we do constantly in the workplace. Responding to emails, saying hello to a colleague, producing written information and contributing to discussions in meetings all requires strong communication skills.
Communication, in a workplace and leadership context, encompasses a myriad of capabilities that good leaders draw on to advance their careers. Above the standard communication skills necessary for success in your current role, identify the additional communication skills you can develop to become an effective leader. For instance, these may include improving your public speaking, collaboration and writing skills.
When you become a highly skilled business communicator, you increase your ability to mitigate conflict, improve internal and external relationships and engage employees – all vital to good leadership.
6. Consistent performance
By consistently meeting or exceeding the expectations of your employer, you instil faith in your manager that you are ready for further career opportunities and responsibilities. By performing to a standard that exceeds expectations, you also elevate standards for other colleagues and team members to work towards.
To build consistency into your performance – and add it to your growing list of leadership qualities – set goals for certain time periods (weekly, monthly, quarterly and annually) and track them. You can use tools and platforms like Trello or Monday to monitor your own consistency. If needed, improve your time management skills. Good leaders know how to manage their own time, so they can consistently meet their targets and lead by example.
7. Trustworthiness
Trust is an important factor in a successful employment relationship. If you aspire to be a great leader, not only do you need to trust your staff to be productive and perform their jobs well, but your employees need to trust that you and the organisation can lead them to success and have faith in their skills and abilities. Great leaders have the self awareness to establish mutual trust between themselves and their team.
To be considered trustworthy, a good leader needs to act respectfully towards colleagues and employees. This includes being respectful of time, views and ideas. They should be transparent through honest communication and information divulgence. And leaders need to act on their assurances.
Mistrust in the workplace can be highly toxic. It can be the beginning of factions, communication breakdown, poor employee morale, low retention and conflict.
True leaders, in contrast, are trusted in their workplace and by their team. There are three good rules of thumb to follow: over-deliver, but never over-promise; never take credit for others' work and instead give credit when due; and talk colleagues up – never gossip or talk team members down.
8. Initiative
Initiative is an important leadership trait that allows you to constantly uncover opportunities to innovate and fulfil organisational goals. Good leaders also empower their employees to take the initiative and believe in them and their skills.

If you want to use more initiative in your career, identify your goals, along with those of your team and your organisation. Also consider common problems and future requirements. Then gather the information you need to plan how you can achieve your goals, solve issues and prepare for future needs. Be proactive. Don't expect to be spoon-fed tasks or answers – instead, come up with and share ideas.
9. Integrity
Leaders demonstrate integrity in the workplace in a variety of ways. They conduct themselves in the right way in all workplace scenarios, both seen and unseen. They show respect, treat people well and collaborate with colleagues to achieve common goals. They are always reliable, trustworthy and do what they say.
Personal integrity is vital and a good leader must have the capabilities required to practice open, productive and respectful communication. As a leader, you must also take time to reflect on the moral and ethical standards of the way you act. Be accountable for your decisions and take responsibility for your mistakes. Always set a good example and be fair. These are strong leadership traits to possess.
10. Critical thinking
Leaders must be able to think critically. Critical thinking is highly valued in the workplace, because it supports better decision making and problem solving. However, many employees have a lot of room for improvement as critical thinkers, according to research. Our own research on the skills employers value found that 61% of employers consider critical thinking to be important, so look at your own abilities in this area and have the self awareness to know if you need to make improvements.
To improve your critical thinking, there are many goals you can set. Consider small and big problems your organisation still needs to resolve. Gather information to formulate solutions. Ask insightful questions to generate new ideas about ways of thinking that better your organisation.
You can also consider online critical thinking courses to develop this effective leadership skill in a professional setting. Start with a free online webinar or short course and then see how far you want to develop as a critical thinker in your organisation.
True leaders understand the importance of these traits
Of course, not every great leader will possess all ten of these leadership qualities. Some of the best leaders will also use certain leadership skills more than others. But a great leader has a strong mix of most of the above leadership qualities and uses them to benefit and inspire their team, the organisation's vision and the overall company success. They lead with honesty, humility, accountability, loyalty, confidence and self responsibility.

So, if your career goal includes becoming a leader in your chosen field, focus your development on acquiring these skills. Good luck.
Career development rh menu promo block
Refer a Friend | Promo Block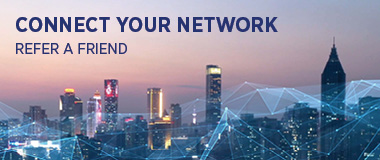 Refer a friend
Join the Hays referral program and we will reward you with a $200 e-gift card for every eligible friend you refer.